Republic of China
TAIWAN
Former Crew Members Visit Taiwan Navy Base
2002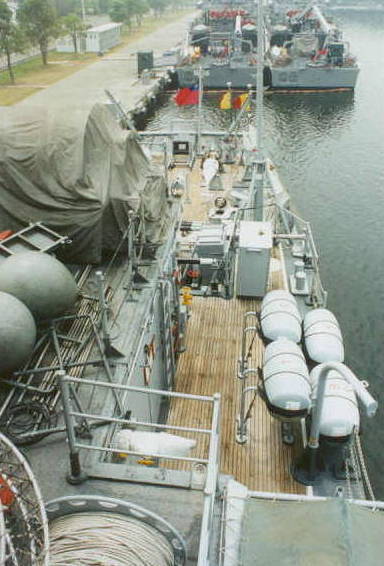 Three former crew members of USS Conquest and USS Gallant visited the Navy base in Taiwan the end of March 2002.
Gil Hoag-former SN, Norris Garrision-former EN, and Rex Mills former cook, were the first ones that had ever received permission to tour the ships and visit the navy base in Taiwan and were given "royal" treatment by the Taiwan Navy.
They flew from the United States to Taiwan and were greeted by a Lt Commander as an escort. He met us at the airport and flew down to the ships. We felt quite important as everytime we passed a ship we got a salute and always saluted when we passed through the gates. We had a great time.
The Conquest, now the Yung Tzu and the Gallant, now the Yung Ku are fully operational as ocean mine sweepers and are kept in excellent condition by their dedicated Taiwan sailors.
Gil reports that they could be in commission for many years to come to fulfill their mission of protecting the people of the Republic of Taiwan from any aggression from the communist Chinese.
The Republic of Taiwan still has all four former U.S. MineSweepers active and in commission.
Paul Haaze has a page with explanations for some of these pictures.
Pictures courtesy of Gil Hoag
---
Page created July 2, 2002
4
Counter Started 11/29/2010