PHILIP L. RHODES
Designer of the MSO Hull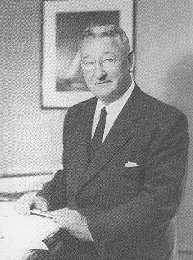 Philip L. Rhodes, 1895-1974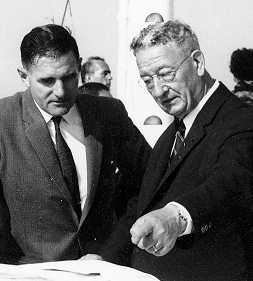 Philip Rhodes, on right, makes a point. Photo from family collection of Dan Rhodes (grandson), with many thanks.
While this review emphasizes Mr. Rhodes' racing/cruising sailboats, he designed many other types of boats and hull forms. There are lighter displacement fin keel sailboats, very large cruising ketches, motorsailers, medium and high speed motorboats, racing hydrofoils, etc. According to Henderson, during World War II, he had responsibilities for Navy auxiliaries, patrol craft, minelayers, minesweepers (including the basic hull for the 172 foot MineSweeper Ocean (MSO) in the early 1950s), school ships, salvage vessels, tugs, barges, and subchasers. He supervised conversion of large liners into troopships and worked on hospital ships. Later he worked on a large line of cargo vessels, fire boats, dredges, steam turbo-propelled vessels for the Yangtze River, etc.
Philip L. Rhodes, born in 1899, was a prolific and versatile boat designer, whose career spanned more than five decades from 1919 until his death in 1974. His range of design was amazing, from 123' motorsailers to 7' dinghies, from hydrofoil racers to giant motor yachts. His clients ranged from Rockefellers to Sears and Roebuck. His 12 Meter Weatherly won the America's Cup in 1962. And, in addition, he designed a wide range of commercial craft.
His biographer Richard Henderson emphasizes that Rhodes was not only an excellent engineer but also a true artist. "Whatever kind of vessel he produced, it invariably had the look of rightness about it. His sailing yachts in particular, with their beautifully proportioned hulls and graceful sheerlines, are works of true design harmony. Not only are Rhodes yachts handsome; they somehow appear to be uniquely suited to their purpose… Phil will be remembered best for this distinguished thoroughbred yachts. They are not only superbly functional, but they also have an elegance and ageless beauty that is all to rare in yacht design today."
Henderson concludes his book with this generalization: "It is difficult to pigeonhole Rhodes, because his designs are so varied, but in general his work in the field of seagoing sailing yachts seems to fall somewhere between Alden and Stephens. A Rhodes boat might be described as being a bit heavier, more comfortable, often more graceful, and not quite as racy as one by Stephens. On the other hand, a Rhodes boat may be thought of as being lighter, yachtier, more expensively built, and a better all-round perfumer than the kind of boat one associates with Alden. Of course, these are gross generalizations, and there are many individual exceptions." (Richard Henderson, Philip L. Rhodes and his Yacht Designs. Camden: International Marine, 1981.)
5
Counter Started 11/29/2010