OPERATION
MARKET TIME
March 11, 1965 - December 1972
Description: A combined U.S. Navy and South Vietnamese Navy effort to stop the flow of supplies from North Vietnam into South Vietnam.
On March 11, 1965 the U. S. Navy created the Coastal Patrol Force, later designated as Task Force 115, whose objective was to interdict enemy efforts to move supplies to south Vietnam by sea: Operation MARKET TIME. This assignment was difficult, tedious, and frustrating, for this blockade was selective, and it was often very difficult to tell friend from foe.
By April 1965 the Navy has committed destroyers, destroyers escorts and ocean minesweepers which patrolled the Tonkin Gulf near the seventeenth parallel.
Much of the enemy effort to smuggle arms and supplies was conducted my means of wooden junks, indistinguishable from the hundreds of other junks that had traded or fished along the South Vietnamese coast for a hundred years.
For the most part, duty on MARKET TIME was boring routine patrol, much of it conducted in oppressive heat. Vessels cruised up and down the coast, stopping to examine or board vessels, either randomly or because of suspicious behavior. Substantial amount of arms and supplies were interdicted
Operation Market Time boarded a craft every 15- to 30-seconds. Those that refused to identify themselves or would not stop were forced to stop at the point of a gun. Those that ran were sunk.
To do this, Market Time employs destroyer escorts, 82-foot Coast Guard cutters, 50-foot PCF Swift patrol boats, and the 165-foot minesweepers.
These U.S. units join the South Vietnamese junk Force, but, because they are few in number, the members of the patrol are often required to play many roles.
This is primarily due to the wide area they must patrol, which stretches 12 miles to sea and runs the full length of Vietnam's 1000-mile coastline. Within this area one can count from 4000 to 5000 boats and junks daily, most of which are used for fishing, but any number of which could be unfriendly.
To ascertain their legality, the patrol will often board and inspect the passengers and cargo of suspected junks. If contraband or troops are discovered, Vietnamese liaison officers who ride in all U. S. craft, turn them over to the custody of Vietnam's junk Force.
In order to counter the enemy's infiltration efforts, the ships often spend long tours on station.
FOR INSTANCE, USS DYNAMIC MSO-432 spent 74 days on one patrol. She was replenished underway 27 times in order to sustain her operations which covered 9000 miles within the inspection zone.
And, there is always the possibility of hostile contact with the enemy.
USS IMPLICIT MSO-455 was fired on by Viet Cong forces while cruising close to shore and was forced to retaliate with her 40mm, 30-and 50-caliber guns.
Another engagement resulted in the decoration of five men from USS ENDURANCE MSO-435. They were awarded medals for helping to destroy a Viet Cong coastal fortification which they approached in the ship's motor whaleboat. The five men attacked one flank of the enemy stronghold while Vietnamese junk Force sailors attacked the other. They held their position in the face of heavy enemy fire and relayed spotting information to their ship. USS ENDURANCE MSO-435 was then able to silence the shore resistance with her guns from about 1000 yards.
These encounters are typical of the demands asked of Market Time minesweepers. But, by no means do they encompass all that is expected of them.
According to USN evaluations during and after the conflict, Operation Market Time was one of the most successful yet least credited operations conducted. Supply routes from the sea became non-existent, forcing the expansion of the Ho Chi Minh Trail inland.
MSOs in Vietnam
MSO-426 USS Conflict
MSO-427 USS Constant
MSO-432 USS Dynamic
MSO-433 USS Engage
MSO-434 USS Embattle
MSO-435 USS Endurance
MSO-436 USS Energy
MSO-437 USS Enhance
MSO-438 USS Esteem
MSO-439 USS Excel
MSO-444 USS Firm
MSO-445 USS Force
MSO-446 USS Fortity
MSO-449 USS Impervious
MSO-455 USS Implicit
MSO-456 USS Inflict
MSO-457 USS Loyalty
MSO-463 USS Pivot
MSO-464 USS Pluck
MSO-466 USS Prime
MSO-467 USS Reaper
MSO-488 USS Conquest
MSO-489 USS Gallant
MSO-490 USS Leader
MSO-491 USS Persistent
MSO-492 USS Pledge
MSO-508 USS Acme
MSO-510 USS Advance
MERITORIOUS UNIT COMMENDATION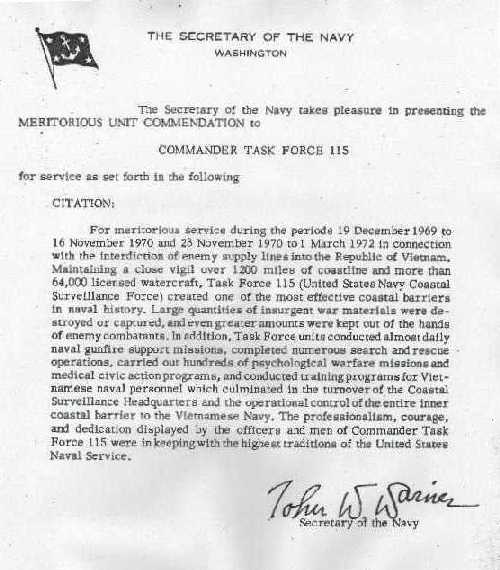 Courtesy Mobile Riverine Force Association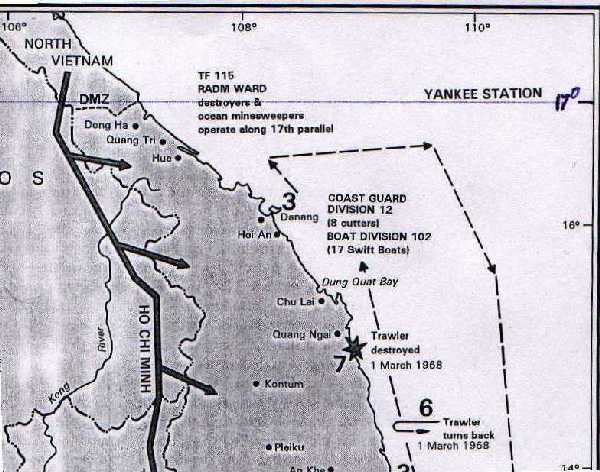 ŠNaval Institute Press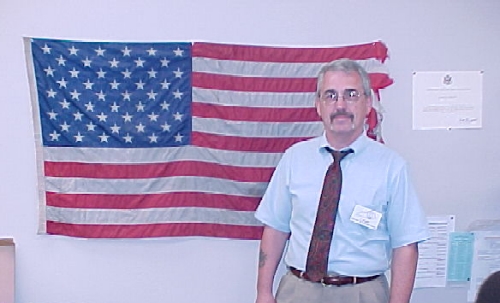 The actual flag that was flown during Operation Market Time
on the USS Conflict (MSO-426) in 1965-1966. Shown with John Riley, who served on board at that time.
Courtesy of John Riley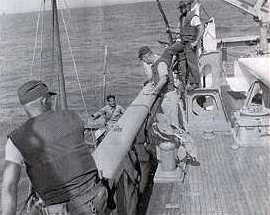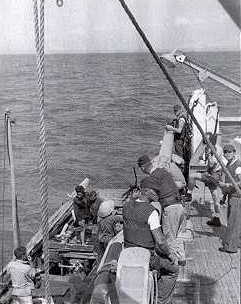 Officers and men of the Loyalty MSO-457 inspect a Vietnamese junk while on patrol off of the Vietnamese coast in August 1966
ŠSea Classics magazine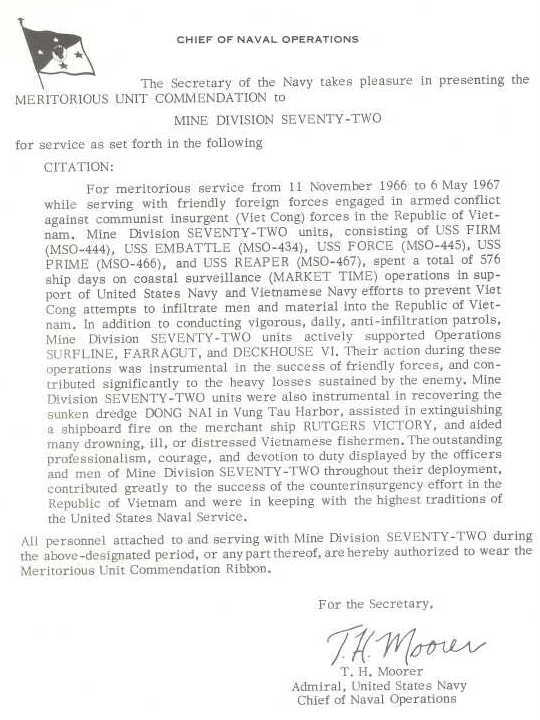 Courtesy of Mike Sexton
The following pictures are onboard USS Endurance during Market Time in 1970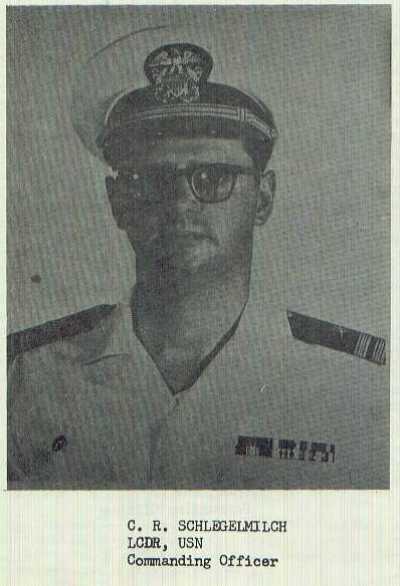 Courtesy of Mike Wark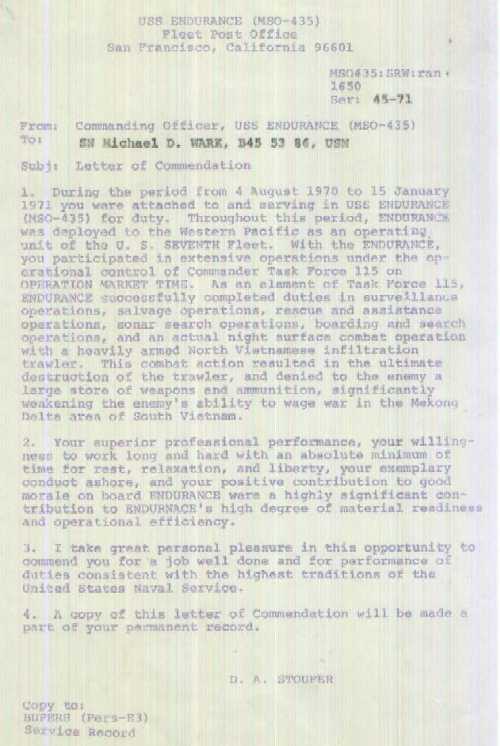 Letter of Commendation
Courtesy of Mike Wark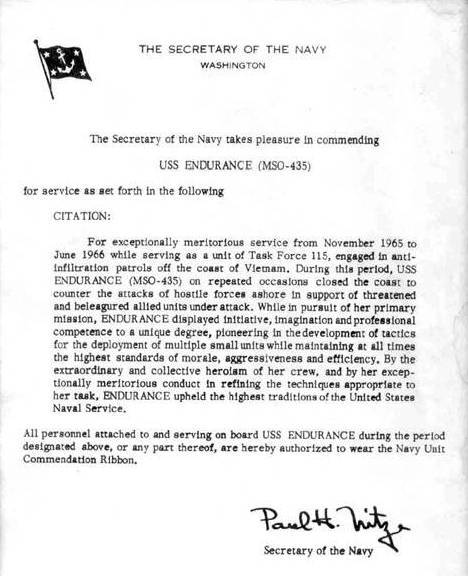 USS Endurance Letter of Commendation
Courtesy of Steve Stratford and Floyd Farrar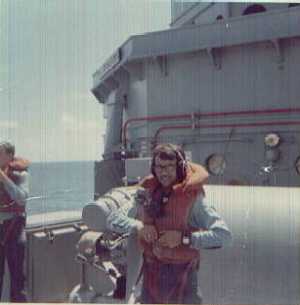 Mike Wark gearing up for practice to go to general quarters on Market Time Operations,1970, WesPac
Courtesy of Mike Wark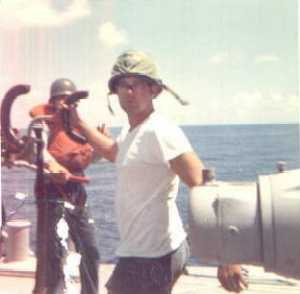 3rd class Gunner's Mate John Cotton
Courtesy of Mike Wark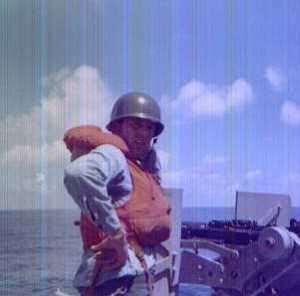 Gunner Doug Hunter Sk-2
Courtesy of Mike Wark
---
Counter Started 8/27/2010
51
Counter Started 12/16/2010