OPERATION EARNEST WILL

By the time the first convoy was ready to get underway in July 1987, there still was NO large-scale U.S. MCM capability in the Gulf.

The results of this omission were quick in coming. Two days into the first escort mission, which included NO MCM craft, the 415,000-ton reflagged supertanker Bridgeton struck a mine a little beyond the midway point of its journey.

Bridgeton's mining, and the discovery of additional mines in the same area, generated a reaction in the United States. A detachment of eight RH-53Ds from HM-14 were airlifted to the Gulf, and the amphibious helicopter assault ship Guadalcanal (LPH-7) rushed from her Indian Ocean station to the Gulf to support them. The Navy also deployed six of the ocean minesweepers (MSOs) left in the fleet (five were in the Naval Reserve Force), towing them to the Gulf, and establishing a rotation of active duty crews sent to operate them.

During the 1987-88 Operation "Earnest Will" (the escort of the reflagged Kuwaiti oil tankers), SIX active and reserve MSO's deployed to the Persian Gulf. Three West Coast MSO's: USS Enhance (MSO-437), USS Conquest (MSO-488), and USS Esteem (MSO-438).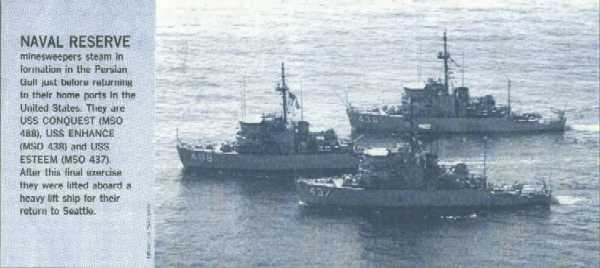 May, 1990 photo, Courtesy of Ken Donnel, Official USN photo
Naval reserve minesweepers steam in formation in the Persian Gulf just before returning to their home ports in the U.S.
They are the USS Conquest (MSO-488, USS Enhance (MSO-438) and USS Esteem (MSO-437).
After this final exercise they were lifted aboard a heavy lift ship for their return to Seattle.
Three East Coast MSOs were towed to the Persian Gulf by the USS GRAPPLE (ARS-53): USS Inflict (MSO-456), USS Fearless (MSO-442), and USS Illusive (MSO-448).
Both ships and crews performed extremely well in very demanding conditions, clearing hundreds of mines from the international waterway.
These ships earned the Armed Forces Expeditionary Medal

for eligible service between July 24, 1987 thru August 1, 1990
Because the free flow of trade in the region was threatened as Iran and Iraq staged a "tanker war," a stronger U.S. stance became necessary. Then-President Ronald Reagan approved a request by the Kuwaiti government to re-flag a number of tankers under the Stars and Stripes to afford them escort protection through the vital choke point known as the Strait of Hormuz. Operation Earnest Will proved successful.
Operation Earnest Will
Iraq attacked Iran in September 1980, launching a war that would last eight years. By 1982, more than 100,000 people had died. The war was costing each side $1 billion a month and devastated both countries' oil industries. In the so-called "tanker war", both belligerents launched attacks on neutral merchant vessels transiting the Gulf, prompting several Gulf states to seek protection from foreign navies.

In March 1984, Iraq initiated sustained naval operations in its self-declared 1,126-kilometer maritime exclusion zone, extending from the mouth of the Shatt al Arab to Iran's port of Bushehr. In 1981 Baghdad had attacked Iranian ports and oil complexes as well as neutral tankers and ships sailing to and from Iran; in 1984 Iraq expanded the so-called "tanker war" by using French Super-Etendard combat aircraft armed with Exocet missiles. Neutral merchant ships became favorite targets, and the long-range Super-Etendards flew sorties farther south. Seventy-one merchant ships were attacked in 1984 alone, compared with forty-eight in the first three years of the war. Iraq's motives in increasing the tempo included a desire to break the stalemate, presumably by cutting off Iran's oil exports and by thus forcing Tehran to the negotiating table. Repeated Iraqi efforts failed to put Iran's main oil exporting terminal at Kharg Island out of commission, however.

Iran retaliated by attacking first a Kuwaiti oil tanker near Bahrain on May 13 and then a Saudi tanker in Saudi waters five days later, making it clear that if Iraq continued to interfere with Iran's shipping, no Gulf state would be safe. These sustained attacks cut Iranian oil exports in half, reduced shipping in the Gulf by 25 percent, led Lloyd's of London to increase its insurance rates on tankers, and slowed Gulf oil supplies to the rest of the world; moreover, the Saudi decision in 1984 to shoot down an Iranian Phantom jet intruding in Saudi territorial waters played an important role in ending both belligerents' attempts to internationalize the tanker war. Iraq and Iran accepted a 1984 UN-sponsored moratorium on the shelling of civilian targets, and Tehran later proposed an extension of the moratorium to include Gulf shipping, a proposal the Iraqis rejected unless it were to included their own Gulf ports.

Iraq began ignoring the moratorium soon after it went into effect and stepped up its air raids on tankers serving Iran and Iranian oil-exporting facilities in 1986 and 1987, attacking even vessels that belonged to the conservative Arab states of the Persian Gulf. Iran responded by escalating its attacks on shipping serving Arab ports in the Gulf. As Kuwaiti vessels made up a large portion of the targets in these retaliatory raids, on 1 November 1986, Kuwait, a nonbelligerent, announced it would seek international protection for its ships. The Soviet Union responded first, agreeing to charter several Soviet tankers to Kuwait in early 1987. Washington, which has been approached first by Kuwait and which had postponed its decision, eventually followed Moscow's lead. On 7 March 1987, the United States offered to reflag 11 Kuwaiti tankers and provide U.S. Navy protection. Kuwait accepted.

On 17 May 1987, an Iraqi attack aircraft fired two Exocet missiles, killing 37 sailors and wounding 21 others aboard USS Stark (FFG 31). Iraq apologized, claiming "pilot error."

Ironically, Washington used the Stark incident to blame Iran for escalating the war and sent its own ships to the Gulf to escort eleven Kuwaiti tankers that were "reflagged" with the American flag and had American crews. Iran refrained from attacking the United States naval force directly, but it used various forms of harassment, including mines, hit-and-run attacks by small patrol boats, and periodic stop-and-search operations. On several occasions, Tehran fired its Chinese-made Silkworm missiles on Kuwait from Al Faw Peninsula. When Iranian forces hit the reflagged tanker Sea Isle City in October 1987, Washington retaliated by destroying an oil platform in the Rostam field and by using the United States Navy's Sea, Air, and Land (SEAL) commandos to blow up a second one nearby.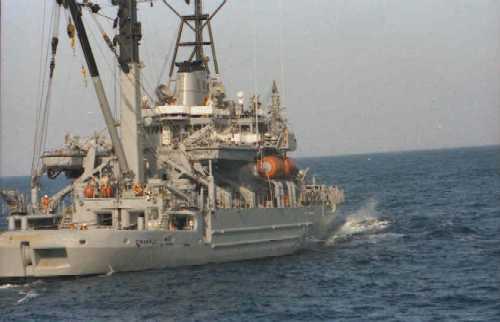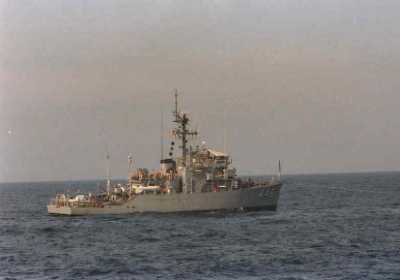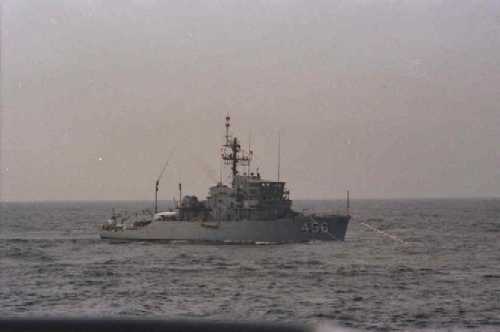 Illusive and Inflict circa Aug 1987.

If you look close you can see the tow line coming off the bow. The top picture is the Grapple which was the tow ship. The Grapple towed Fearless, Illusive, and Inflict across the Atlantic and across the Med. We left Little Creek end of August 1987. 3 weeks to cross. We were being towed to the Persian Gulf to participate in Operation Earnest Will. I think the major concern was having to overhaul all those Waukasha's when we finally arrived. I don't think we were towed the whole way. Only across the Atlantic and the Med. I belive once we got to the Suez canal we were under our own power the rest of the way.

Courtesy of Todd Freeman

Within a few weeks of the Stark incident, Iraq resumed its raids on tankers but moved its attacks farther south, near the Strait of Hormuz. Washington played a central role in framing UN Security Council Resolution 598 on the Gulf war, passed unanimously on July 20; Western attempts to isolate Iran were frustrated, however, when Tehran rejected the resolution because it did not meet its requirement that Iraq should be punished for initiating the conflict.

American units had already found a dozen mines in Persian Gulf shipping lanes when the Navy began escorting re-flagged Kuwaiti tankers during Operation EARNEST WILL in July 1987. During the very first escort mission, a mine ripped into the re-flagged supertanker Bridgeton. That first month, three tankers hit mines and minesweeping operations by Navy helicopters began. Later that summer, U.S. forces captured the Iranian minelayer Iran Ajr while it was deploying mines in international shipping lanes and U.S. helicopters repelled an attack by Iranian speedboats. In October 1987, U.S. surface forces destroyed an armed Iranian oil complex in retaliation for an Iranian missile attack on a U.S.-flagged tanker.

In early 1988, the Gulf was a crowded theater of operations. At least ten Western navies and eight regional navies were patrolling the area, the site of weekly incidents in which merchant vessels were crippled. The Arab Ship Repair Yard in Bahrain and its counterpart in Dubayy, United Arab Emirates (UAE), were unable to keep up with the repairs needed by the ships damaged in these attacks.

It was during these operations that USS Vincennes (CG 49) shot down an Iranian commercial Airbus A300B2-202 airliner [Iran Air Flight 655] on 03 July 1988 after mistaking it for an Iranian F-14. The total of 290 dead civilian passengers, included 66 children. On 22 February 1996 the United States agreed to pay Iran $61.8 million in compensation ($300,000 per wage earning victim, $150,000 per non wage earner) for the 248 Iranians killed in the shootdown.

The Belgium Navy participated with two MSO's [hull 504 (Breydel M906) & hull 516 (Bovesse M909)].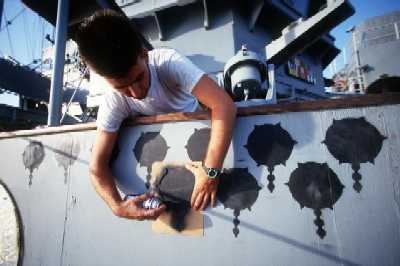 ID: DNST8805465
Radioman Seaman John M. Joyce spray paints a symbol representing a mine on the side of the ocean minesweeper USS INFLICT (MSO-456). The symbols represent the number of mines the ship has discovered and destroyed in gulf shipping lanes to date.
Location: PERSIAN GULF
Date Shot: 27 APR 1988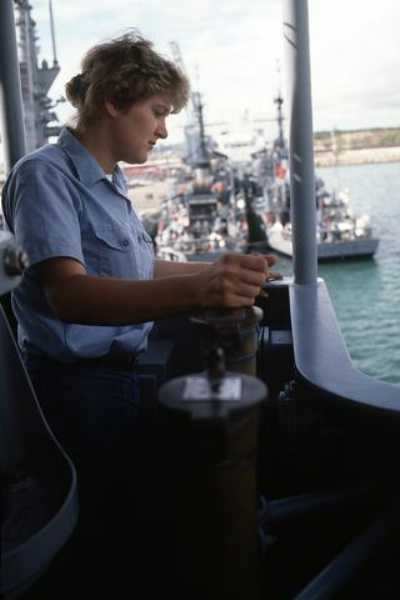 ID: DNST8801117
Engineman 3rd Class Tammy Wenzlick watches small boat activity in the harbor from the rail of the salvage ship USS GRAPPLE (ARS-53). Two minesweepers which the GRAPPLE is towing to the Persian Gulf are shown in the background.
Location: ROTA, SPAIN (ESP)
Date Shot: 01 SEP 1987
---
Operation Earnest Will, 1987-1989
Taking advantage of internal strife in Iran after the latter's revolution, Iraq attacked Iran in September 1980. The Iraqi effort met with initial success, but then bogged down. Iran began its own series of counteroffensives that recovered lost territory and began to push into Iraq itself. The war eventually deteriorated into a prolonged stalemate.
As hostilities dragged on, both Iran and Iraq began striking at targets - particularly oil facilities and commercial tankers - that buttressed each other's economy. Aircraft and light surface forces were the weapons of choice for these attacks, as were mines on some occasions.
As the war progressed, ships from ostensibly neutral countries were increasingly subject to attack. In 1986, Iraq's neighbor Kuwait requested protection for its tankers, which were increasingly being targeted by Iranian forces. When it appeared that the Soviets might answer Kuwait's call, President Reagan instead offered to put half of Kuwait's tankers under the U.S. flag and provide appropriate protection for them.
Iran did not respond well to the U.S. action. It saw Kuwait and other conservative Arab countries in the Persian Gulf as allies of their fellow Arabs in Iraq. From Iran's capital of Tehran, American support for Kuwait also appeared to place the United States on the side of Iraq. Consequently, Iran looked for ways to undermine the U.S. effort in the Gulf. As focused as it was on pursuing its war with Iraq, and with its small navy in poor shape after years of war and revolution, the Iranians turned instead to a kind of guerilla warfare at sea, conducted in large part by the light forces of its Revolutionary Guards.
Mines were to play an important role in this effort. Iran had a stockpile of approximately 1,000 M-08 contact mines, many manufactured in Russia and the Soviet Union earlier in the century. The Soviets had most likely refurbished these weapons and transferred them to North Korea, which in turn had sold them to Iran. The Revolutionary Guards used swarms of small, outboard-powered aluminum boats to sow these mines in the shallow waters throughout the northern Gulf and near the Gulf's entrance at the Strait of Hormuz. Some of these mines also broke free from their moorings and drifted Gulf shipping lanes.
The Navy did take note of the mine threat as it prepared to escort the reflagged Kuwaiti tankers as part of Operation Earnest Will. The U.S. had sent Explosive Ordnance Demolition (EOD) teams to the Gulf in early 1987 to support Kuwait and Saudi Arabian mine clearance efforts. It also placed an AMCM squadron, HM-14, on alert to deploy to the Gulf. But by the time the first convoy was ready to get underway in July 1987, there still was no large-scale U.S. MCM capability in the Gulf.
The results of this omission were quick in coming. Two days into the first escort mission, which included four surface combatants but no MCM craft, the 415,000-ton reflagged supertanker Bridgeton struck a mine a little beyond the midway point of its journey. Four of the tanker's 31 compartments flooded and the convoy was forced to slow to about five knots, but otherwise the ship was unhindered. What was perhaps more embarrassing to the Navy was the press coverage of the escorting warships following carefully in Bridgeton's wake as the convoy continued on to Kuwait, since the big ship was the only one that could survive another mine hit with any certainty. All the putative escorts could do put extra lookouts on their bows to look for other mines.
Bridgeton's mining, and the discovery of additional mines in the same area, generated a reaction in the United States. A detachment of eight RH-53Ds from HM-14 were airlifted to the Gulf, and the amphibious helicopter assault ship Guadalcanal (LPH-7) rushed from her Indian Ocean station to the Gulf to support them. The Navy also deployed six of the ocean minesweepers (MSOs) left in the fleet (five were in the Naval Reserve Force), towing them to the Gulf, and establishing a rotation of active duty crews sent to operate them.
Elsewhere, the amphibious dock ship Raleigh (LPD-1) loaded four minesweeping boats (MSBs) and sailed for the Gulf. The ship also carried four Seafox special operations boats used by Navy SEALs, which provided a major clue as to how the United States intended to thwart future Iranian mine-laying activities.
U.S. officials also approached their European counterparts in an effort to get their support for a Gulf mine-clearance and patrol effort. At first, these entreaties fell on deaf ears, as the British and French did not wish to embroil themselves in what they saw as an American and Iranian struggle. This outlook changed in August, however, when a Panamanian-flagged vessel struck a mine off Fujayrah in the Gulf of Oman, outside the Persian Gulf, and other mines were spotted in the same area. Iran now seemed to be targeting all merchant shipping, not just U.S.-reflagged tankers or warships. In the ensuing weeks, Britain, France, Italy, Belgium, and Netherlands all sent mine countermeasure craft and other ships to the Gulf region.
Ultimately, these assets had the desired effect. The U.S. MSOs, which commenced full-scale operations in November, swept and rechecked Q-routes (established routes into, out of, and between ports) and convoy shipping lanes. Their AN/SQQ-14 mine-hunting sonars proved effective in Gulf waters, although the commercial, lightweight Sea Rover remotely-operated vehicles with which they were fitted had problems identifying and classifying mine-like objects. Instead, EOD divers proved more adept at following up on contacts made by the MSOs' gear.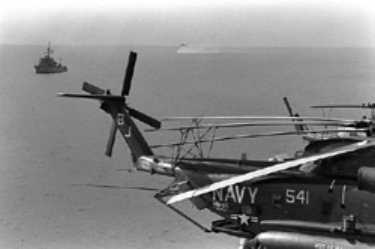 The ocean minesweeper USS Inflict (MSO-456) and an RH-53D Sea Stallion conduct minesweeping operations near the amphibious assault ship USS Okinawa (LPH-3) in the Persian Gulf, December 1987.
U.S. forces also conducted a full-scale press to track potential Iranian mine-laying assets and stop them in the act. Fixed-wing surveillance and reconnaissance aircraft, specially equipped special operations helicopters such as the O/AH-6 from the U.S. Army's Special Operations Command, and small, swift boats operating from two large barges moored in the Persian Gulf conducted constant and often clandestine patrols in an effort to thwart the Iranians.
The payoff from this effort came in September 1987, when U.S. forces tracked the Iranian amphibious ship Iran Ajr as she left port and entered the Gulf shipping lanes. Army OH-6 helicopters operating from Guadalcanal and the U.S. frigate Jarrett (FFG-33) watched as the Iranians dumped mines into the water. After requesting and receiving permission to attack, the aircraft raked Iran Ajr with machine gun and rocket fire, killing five crewmen and disabling the ship. Later, Navy SEALs boarded the vessel, discovering nine additional mines and charts indicating the position of other Iranian minefields. The SEALs ultimately scuttled the ship with explosives.
Although Iran's mining efforts did not end after the Iran Ajr incident, the Revolutionary Guards did become more circumspect. After launching several more attacks against U.S.-flagged and other vessels and striking at Kuwaiti oil terminals, Iranian forces ratcheted down their activities in the Gulf.
Nevertheless, hostilities between the United States and Iran were not over yet. In April 1988, Iranian Revolutionary Guards again seeded the shipping lanes with mines. The U.S. frigate Samuel B. Roberts (FFG-58), struck one of these mines as she transited to Bahrain after a successful escort mission. The resulting detonation blew a 20-foot hole in the ship's hull, broke her keel, threw her engines from their mounts, started fires, and flooded the ship's engineering spaces. Only superb damage control efforts kept the ship from sinking.
MSOs and other ships coming to Roberts' aid found five more mines in surrounding waters. Close examination of the weapons revealed them that they were identical to those captured on board the Iran Ajr. To respond to this latest Iranian outrage, President Reagan authorized a limited retaliatory strike on Iranian forces in the Gulf. During the ensuing action, dubbed Operation Praying Mantis, Navy and Marine Corps units destroyed two oil platforms used as a sea base by the Revolutionary Guards. Navy aircraft and surface combatants also sank three Iranian warships and several speedboats.
After Praying Mantis, Iran ceased challenging U.S. naval power in the Gulf. The stalemated Iran-Iraq war petered out in late 1988, and half of the MSOs were released from Gulf service in March 1989.
The Navy's mine clearance efforts in this area proved that a serious mine warfare threat could be generated by any number of nations, not just the Soviet Union. Mines could be easily and cheaply acquired from the Soviets, or even from Western arms companies. They provided Third World nations, even those without significant naval forces, a means of challenging the U.S. Navy's control of the littoral seas off their coasts. This was a lesson that would be reemphasized in the early 1990s.
---
Counter Started 8/27/2010