OPERATION END SWEEP
6 February 1973 - 27 July 1973
The removal of mines from North Vietnam's coastal and inland waters
On February 6, 1973, the 7th Fleet's Mine countermeasure Force began Operation Endsweep to clear all American mines from North Vietnam's coastal waters and remove the Mark 36 destructors from inland waterways. During the first two weeks of this effort, a pair of destroyers escorted four oceangoing minesweepers, which cleared anchorages around Haipong.
The U.S. originally laid the mines to hamper Hanoi's ability to import war supplies and all of it fuel supply. On May 8, 1972 Navy planes from the USS Coral Sea (CVA 43) in an operation that took only two minutes layed thirty six 1000-pound Mark 52 mines to began the mining of the approaches to Haiphong. In succeeding months thousands of additional mines were layed down. The results were dramatic. The mining campaign, in conjuction with air attacks on North Vietnam's land lines of communication, severely curtailed the supply of vital munitions to communists forces in South Vietnam and finally perusauded Hanoi to seriously negotiate an end the the long conflict.
Mine removal operations began on 6 February 1973 and ended on 27 July 1973
On 23 January 1973, the "Agreement on Ending the War and Restoring the Peace in Vietnam" was signed in Paris. In accordance with the Agreement, preparations for the return of the prisoners of war were made, and the removal of mines from Haiphong Harbor (Operation ENDSWEEP) was scheduled to commence within a month.
Planning for Operation ENDSWEEP had begun before the conclusion of the Paris Peace Talks as, knowing that the mining of Haiphong was having telling effects on the North Vietnamese economy, the U.S. negotiating team had used an offer of removing the mines as a bargaining point to obtain from Hanoi the release of American prisoners of war. Accordingly, as soon as negotiations were concluded, the Navy set up Task Force 78 (TF 78) to conduct minesweeping operations in North Vietnamese waters using ten surface minesweepers [USS ENGAGE (MSO-433), ENHANCE (MSO-437), FORCE (MSO-445), FORTIFY (MSO-446), ILLUSIVE (MSO-448), IMPERVIOUS (MSO-449), INFLICT (MSO-456), LEADER (MSO-490) CONQUEST (MSO-480) and ESTEEM (MSO-438)] plus USS WASHTENAW COUNTY (MSS-2) and specially configured CH-53 helicopters. A total of 10 ocean minesweepers, 9 amphibious ships, 6 fleet tugs, 3 salvage ships, and 19 destroyer types served with Task Force 78 during the almost six months of Operation EndSweep. Mine removal operations began on 6 February and ended on 27 July 1973.
The last provision of the cease-fire agreement that directly related to the Navy entailed removal of the U.S. sea mines laid along the North Vietnamese coast and the Mark 36 Destructors dropped into inland waterways. On 28 January, following months of extensive preparation and training, the Seventh Fleet's Mine Countermeasures Force (Task Force 78), led by Rear Admiral Brian McCauley, sailed from Subic Bay for a staging area off Haiphong. On 6 February, 1973, one day after Commander Task Force 78 met in the city to coordinate actions with his North Vietnamese opposite, Operation EndSweep got underway off Haiphong with the first minesweeping gear being streamed by USS Force. During the first two weeks of this effort Ocean minesweepers Engage (MSO 433), Force (MSO) 445), Fortify (MSO 446), and Impervious (MSO 449) cleared anchorages off the coast around Hiaphong while being escorted by guided missile frigate Worden (DLG 18) and destroyer Epperson (DD 719). On 27 February, they were joined by five amphibious ships carrying Navy and Marine CH-53 Sea Stallions helicopters. Also cleared were the ports of Hon Gai and Cam Pha as well as the coastal waters off Vinh. The last sweeping was by Marine helicopter on 5 July, 1973.
Six MSO's completed a total 439 hours of sweeping, with four other MSO's present at various times but did not sweep. The total cost of Operation EndSweep over and above normal operations for identical units was $20,394,000 including $294,000 for repairs to USS Enhance for fire damage. operation-end-sweep-jan-73-john-wright-msossubic1.jpg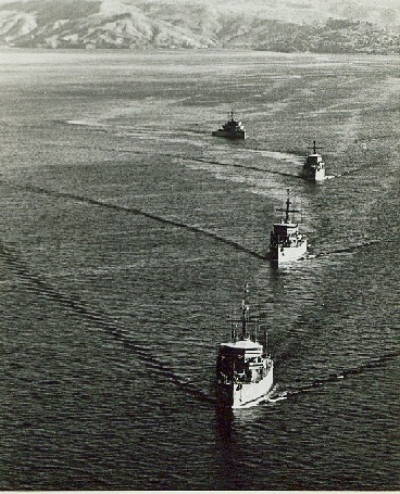 As Operation End Sweep begins, following the Vietnam cease-fire in January, 1973, USS Fortify leads MINEFLOTONE out of Subic Bay on the way to waters off Haiphong, North Vietnam.
Courtesy of John Wright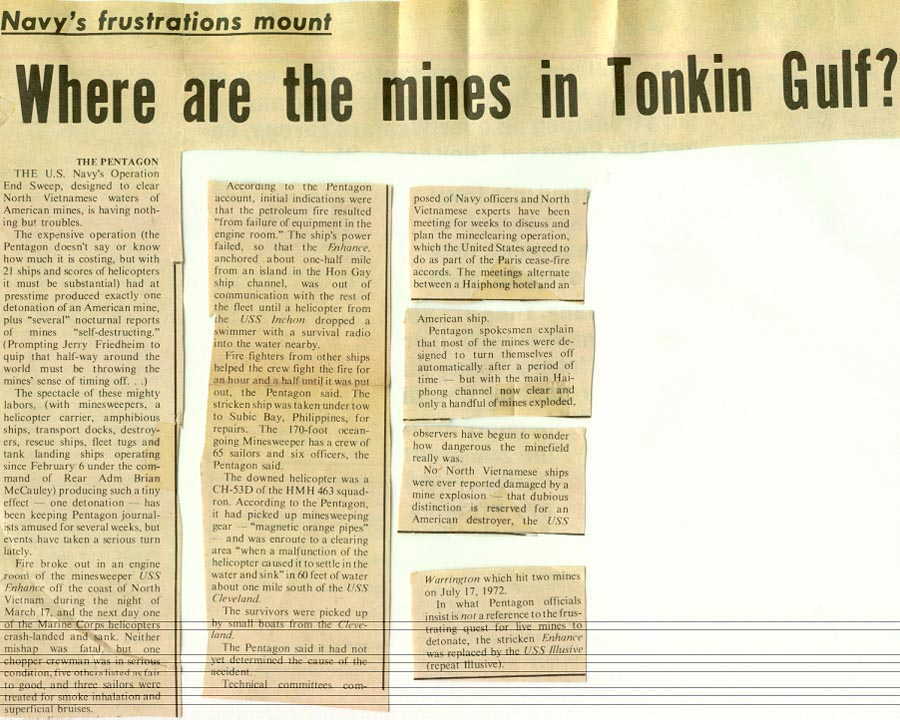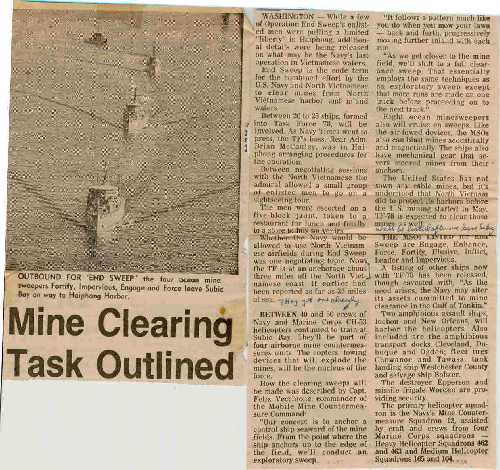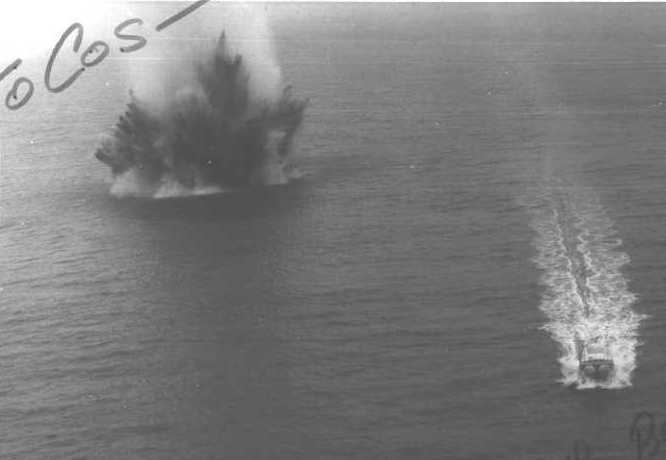 A towed Mark 105 sled detonates a sea mine off Haiphong on 9 March, 1973. This event, recorded by a Swept Mine Locator Camera, which each helicopter has installed in its tail, was the only time a Task Force 78 sweep caused ordnance to explode. Most mines self-sterilized or self-destructed.
Officially this was the only mine explosion that resulted from sweeping. Un-officially three additional detonations occured.
6 March, 1973 an MSO crew observed an explosion with a water plume near the Haiphong ship channel.
17 March, 1973 a mine explosion plume was observed by a U.S. Raydist survey team ashore at Cat Bi.
18 March, 1973 another explosion and plume were observed by a helicopter crew in Haiphong harbor.
The reason for such a small number of detonations is because most mines were designed to self-destruct or self-sterilize.
*************************************************
When the mining was being planned, Assurance took part in MineEx's off Chasn where Haiphong style mines were dropped from A-7's, B-52's and P-3's. They looked like 55 gallon drums painted flat black. For all we know, that's what they were. It would have been a lot cheaper to drop concrete filled drums with a few live mines stuck in there to keep the enemy honest. Who'd want to be the one to confirm the mines were dummies, assuming some of them weren't? In addition to work in Charleston, Assurance went to Norfolk to test the detonators of the mines. The range was just off Point Comfort and our track took us within about 50 feet of the swimming pool at the Chamberlain Hotel. That isn't so interesting in itself, but part of what we were doing was dropping hand grenades off the fantail to see what the concussion would do to our shaft packing.
Something that has bothered me for , oh, only about 27 years now, is the way some of us who went to End Sweep were treated. Conquest and Esteem arrived in the waters of N Viet Nam on about 3 April 1973. We spent, off and on, the next 5 months there. We received the hostile fire pay, I believe, for the entire period. When the time came to get ribbons or medals for being there, however, we were told that the war, according to congress, had ended on 30 March, so we got no Campaign , Expeditionary, or service ribbons/medals. The fact that Saigon didn't fall for another year and fighting in one form or another continued to that time and beyond didn't enter into their heads. The fact that we were receiving extra pay for being in a war zone obviously didn't either.
Letters to the Navy and Senators got the response that the Navy considered a special ribbon for End Sweep but decided against it. I was told congress knew best, and if they said the war was over, then it was over. We didn't expect silver stars or anything, just ribbons to show we had actually been there. Subsequent sweep operations in the Suez Canal and Persian Gulf got great press and participants got ribbons and medals for their efforts. We got ignored at the time and rationalizations and doubletalk later.
Mike Cosgrove
**********************************************************
I believe that I can safely say that most Minesweep Sailors served under peace time conditions. I want to take time to remember that there were also many that served "under the gun". Not only did they have to cope with the storms, cramped living quarters and the inherent emotional drain of duty aboard a minesweeper, but they also had to face themselves, not knowing how that they would respond when hostile gun's were firing. How that they would be able to cope when the mines in the water were real and their expectation for a long and healthy life was greatly diminished. Some died in the performance of their assigned duties. Some performed duties that were classified. Their families, friends and countrymen never knew the sacrifice that these men gave. Some never came home, Some came home in body bags, some came home maimed, some came home emotionally scared. But, all came home national hero's, whether recognized as such or not. If you served in WW2, Korea, Viet Nam, The Persian Gulf, my hat is off to you. If you served in some remote corner of the world that no one ever heard of, where the national interest never fully explained, if you were fired upon by nations considered friends of the US, my hat is off to you. If history is written by the politics of the times, truth is carved in the hearts of men. Write down and share your story. Since the history of the Mine Forces seems to have been overlooked by the politicians, it will be our job to tell future generations what life was really like for those that called themselves "The Iron Men in Wooden Ships".
Jerry Coppage
Counter Started 8/27/2010
825
Counter Started 12/15/2010