Naval Inactive Ship Maintenance Facility (NISMF), Portsmouth, VA
USS EXPLOIT (MSO-440)
USS AFFRAY (MSO-511)
USS EXULTANT (MSO-441)
USS FORTIFY (MSO-446)
These photos courtesy of Russ Moffett were taken in June, 2000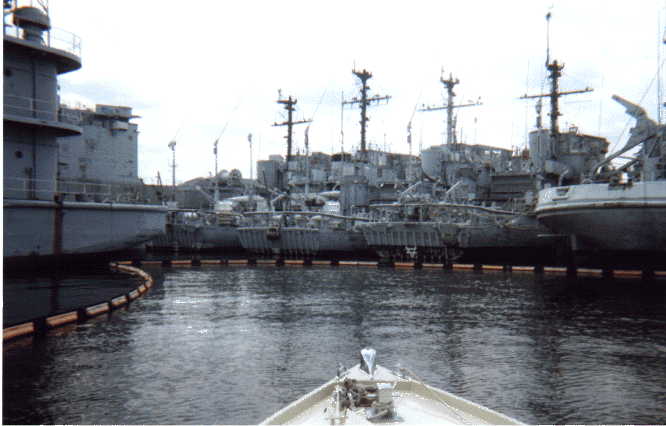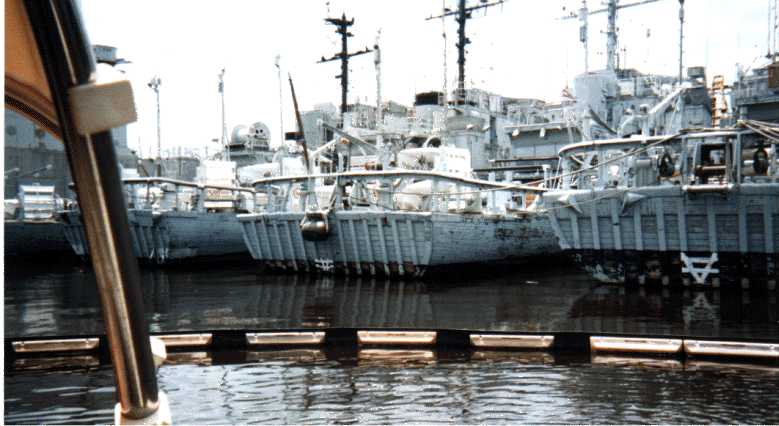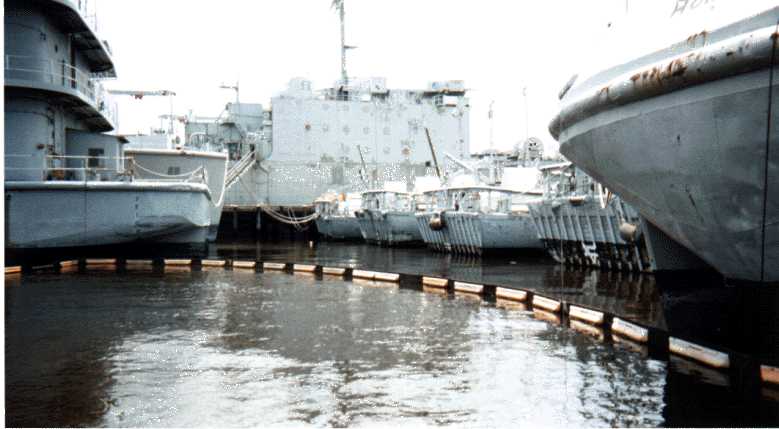 The "sweep investigation":
The boats are nose-in to the sea wall, so I could not get any bow shots. As you can see from the pictures, they are all floating, the one closest to the tugboat is actually very high in the water. Must have removed lots of equipment. The boats all look pretty good, need some chipping and painting but I saw no major disrepair nor were they sitting on the bottom in mud. The water depth all around the boats was over 35 feet, even close to the sea wall, but that damn tug was in the way and I could get no closer.
I saw no evidence of pumps being used or any activity around them. I backed up to the closest sweep, the one next to the tug, and gave it a few good raps with a hammer all up and down the hull. It all sounded solid, and no soft points. I know a bit about wooden boats. In my opinion, those sweeps are not in as bad a shape as the Navy claims. Sure, they would need extensive work to be made seaworthy again, but who the hell wants to make them seaworthy, I thought we just wanted one to get placed into a new home, a permanent home where people can come aboard and see a real MSO. Anyway, from my eyes, they are not wrecks, they are floating, they are solid (from what I could see and touch), and they are there.
Russ Moffett
81
Counter Started 11/26/2010