Astoria Marine Construction Company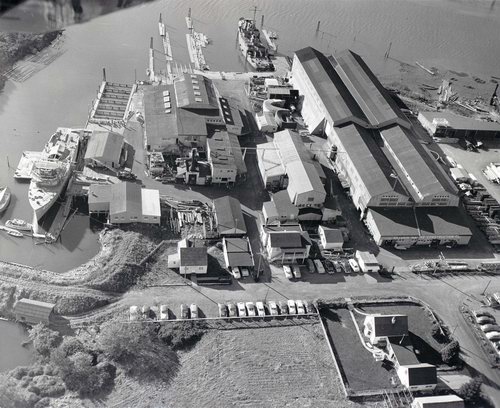 The Astoria Marine Construction Company, circa 1950's
Astoria Marine Construction Company Home page
The Korean Conflict
As the cold war heated up, and we went to war in Korea, the Navy became acutely aware of advances made in magnetic detonators for mines. Even existing wooden minesweepers, like the YMS's were vulnerable to the new technology. New minesweepers had to be built without using a single piece of magnetic material in their construction: no iron engine blocks, no steel fasteners, not even magnetic pocketknives. This was a huge challenge, calling for the special manufacture of engines, guns, electronics, everything found on a modern ship. All had to be especially made of bronze, aluminum, monel, or certain stainless steel alloys.
And once the Navy had found sources for the special equipment, shipyards had to be found to build the ships. AMCCO was chosen to be the west coast lead yard for the AM program, while Luders in Stamford, Connecticut was chosen to be the east coast and national lead. A lead yard was expected be first in the building process, sharing engineering, knowledge, patterns made, and so forth with the yards following them. It was a tribute to AMCCO to be chosen as west coast lead. As things ultimately developed, AMCCO passed Luders, and shared the national lead duty with them.
The original contract was for two ships, AM 428, the USS Dash, and AM 429, the USS Detector. Eventually AMCCO received a contract to build three more ships for the Royal Netherlands Navy.
Although only five ships were involved, compared to the dozens built during World War II, the number of vessels is not reflective of the effort involved. These ships were considerably bigger than previous AMCCO built vessels, and very much more sophisticated. They were, at the time, the most expensive ships ever built on a per foot basis. AMCCO's contract was for about $2,000,000 per ship, but the value of the special Navy furnished non-magnetic equipment was another $3,000,000.
Page created March 11, 2004
86
Counter Started 11/26/2010